【Held on Feb. 19】The 3rd Kashiwa Library Friendship Screening (Movie "Alexandria")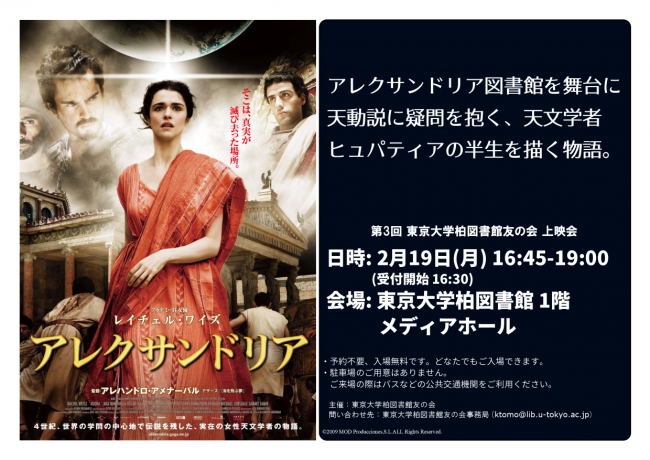 【Held on Feb. 19】The 3rd Kashiwa Library Friendship Screening (Movie "Alexandria")
We will screen the movie "Alexandria" at the Kashiwa Library from 16:45 on February 19 (Monday).
This movie is a story depicting the half-life of astronomer Hypatia, who doubts about the Geocentrism.
Please take a look at the Christians who do not recognize the theory of Heliocentrism and the appearance of Hypatiaa exploring the correctness of the Geocentrism.

Date and time: February 19 (Mon.) Opening at 16:45 (scheduled to be held at 19:00)
Venue: Kashiwa Library (1F) Media Hall

※ No reservation required, Admission free.
※ Movies will be screened with English audio (with Japanese subtitles).
※ "Kashiwa Library Friendship Association" is an organization that supports the activities of the Kashiwa library and projects.

For inquiries: Kashiwa Library Friendship Association Secretariat (ktomo@lib.u-tokyo.ac.jp)