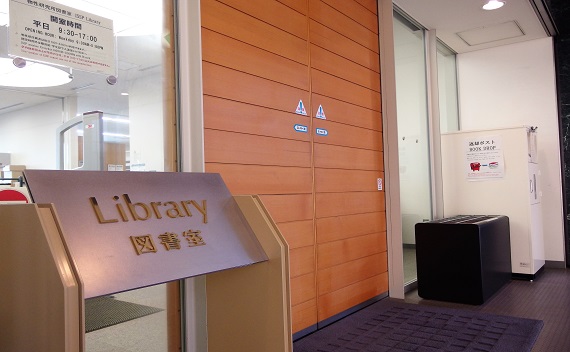 Kashiwa campus
Institute for Solid State Physics Library
---
Location
ISSP main building, 6th floor, Room No.A631

---
Books which "Location" is "ISSP Laboratory" on UTokyo OPAC.
The books are in laboratories.
If you want to use them, please contact ISSP Library via e-mail.
We'll confirm the feasibility of using it, and reply to your mail.
---
Open & Service hours
Monday - Friday 9:30 - 17:00 (Service desk is closed 12:00-13:00)
Persons affiliated with ISSP and having an ISSP ID card can go in and out 6:00-24:00 every day.
---
Closing Days
Saturdays, Sundays, national holidays, and New Year's holidays (from Dec. 28 to Jan. 4) , and also will be closed temporarily if necessary.
---
Eligibility for use of library
University members, Persons belonging to ISSP,
Others (who want to use materials of ISSP library)
We recommend to ask about materials you read in advance.
---
Requirements for admission to library
Persons not affiliated with University must contact the library (e.g., by return postcard) in advance specifying the materials to be used. Or see for the details.
---
Requirements for reading in library
Procedures : None. Anyone can read materials in library.
Browsing Hours : Same as opening hours.
---
Borrowing
Eligibility : University members
Requirements : Student ID Card, Staff IC Card of UTokyo, Library IC Card
Loan Policies :
Limit to the number of items - 10 volumes
Loan period - 1 month
Books can be renewed.
If no one else has requested it, you can renew it.
In the case of overdue, you cannot renew.
You can request to renew by "MyOPAC" and the Counter.
Borrowing hours : Same as service hours.
For use in library only : Journals, reference books and other designated materials
---
Intra-university delivery service
Available
Other information on borrowing books : Non-members of UTokyo can borrow books through InterLibrary Loans.
---
Photocopying
Photocopying hours : Same as opening hours.
Procedures for photocopying : Fill out an "Application for Photocopy" form.
Cost per sheet copied : The cost for copies made using the University of Tokyo ILL price table.
Intra-university photocopying service : Both order and accept
Other information on photocopying : Non-members of UTokyo can request copies through InterLibrary Photocopying service.
---
[ update : 2017.8.1 ]
ISSP main building, 6th floor, Room No.A631
5-1-5 Kashiwanoha, Kashiwa, Chiba 277-8581
E-mail:
issp-lib@issp.u-tokyo.ac.jp
ECCS terminals:
Not Available (NA)