【UTokyo Library System】There are many libraries closed or closed earlier than usual in the middle of August.Please check the latest information when using the library.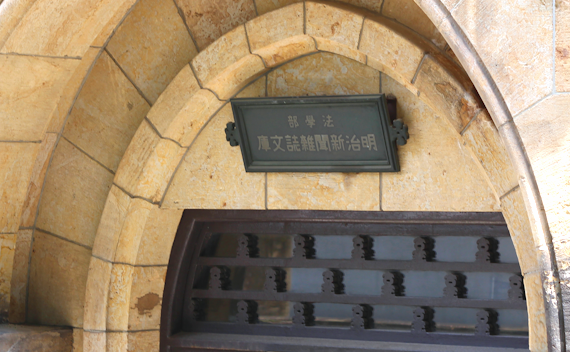 Hongo campus
Graduate Schools for Law and Politics / Faculty of Law Center for Modern Japanese Legal and Political Documents
(Meiji Shinbun Zasshi Bunko)
---
Location
Hongo Campus : Beside Historiographical Institute Building, Basement
---
Hours
Weekdays from 9:00 AM to 4:30 PM
---
Closing Days
Saturdays, Sundays, National holidays, Inspection days, New Year's holidays and during University of Tokyo entrance examinations period Library may also be closed on other days as required.
For details : see Library website (Japanese only)
---
Eligibility for use of library
Persons affiliated with University of Tokyo
Faculty members, graduate students, undergraduate students and university personnel
Persons from outside University of Tokyo
Persons bearing a letter of introduction from the institution with which they are affiliated.
Persons non affiliated with any organizations, contact the library.
---
Requirements for admission to library
Persons wishing to gain admission to the library must present a student ID or personal identification and a letter of introduction.
---
Requirements for reading in library
Procedures : Books from the stacks must be requested at the service desk.
Hours for Call-Slip acceptance : 9:00 AM to 12:00 AM and from 1:00 PM to 4:30 PM
Reading hours : 9:00 AM to 4:30 PM
---
Borrowing
---

Intra-university delivery service
---

Photocopying
Photocopying permitted/not permitted : Permitted
Photocopiers available/not available : Available (1 coin-operated machine)
Procedures for photocopying : Fill out an "Application for Photocopy" form.
Photocopying hours : 9:00 AM to 4:30 PM
Cost per sheet copied : 10yen / color 50yen
Materials for which photocopying is prohibited : Damaged materials, original newspapers and rare books are available to make photographic reproduction only.
Note that the cost of photography and the available service may differ depending on the size of the photo paper.
Intra-university photocopying service : Not available
---
Other information
User guide : Guide to using Meiji Shinbun Zasshi Bunko, the University of Tokyo Graduate Schools for Law and Politics
---
[ update : 2017.8.17]
Beside Historiographical Institute Building , Basement
7-3-1 Hongo, Bunkyo-ku, Tokyo 113-0033
E-mail:
lmeiji@j.u-tokyo.ac.jp
ECCS terminals:
Not Available (NA)