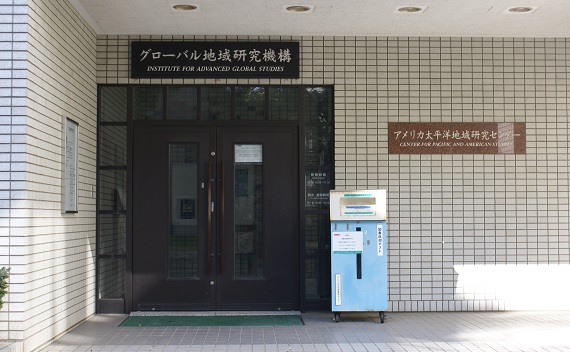 Komaba campus
Center for Pacific and American Studies Library, Graduate School of Arts and Sciences
The Center for Pacific and American Studies (CPAS) was founded in 2000 in the Graduate School of Arts and Sciences, expanding on the Center for American Studies which was created in the same school in 1967. Among national university libraries in Japan, CPAS's library is the only one focused on the United States, Australia, and the Pacific.
Located at Building 14 in Komaba I Campus, CPAS Library holds about 80,000 academic books and journals as well as manuscript collections. The library has an extensive collection of academic publications on American politics, international relations, US history, and migration studies along with other fields in American Studies, and also has a growing collection of Australian Studies materials. It is open not just to students and faculty of the University of Tokyo but unaffiliated patrons, who can check out books after completing registration and receiving a CPAS Library card.
CPAS is strong in its archival collections on US-Japan political and cultural relations, early America, and politics and social movements in the twentieth century. Most notable is the Yasaka Takagi Collection, which includes materials on the Institute of Pacific Relations as well as the manuscripts and correspondence of Takagi, a professor in the Faculty of Law at the University of Tokyo who had profound influence on American Studies in Japan before and after World War II.

---
[ update : 2022.7.29 ]
Graduate School of Arts and Sciences, Bldg.14, First and second floors
3-8-1 Komaba, Meguro-ku, Tokyo 153-8902
E-mail:
lib@cpas.c.u-tokyo.ac.jp
ECCS terminals:
Not Available (NA)