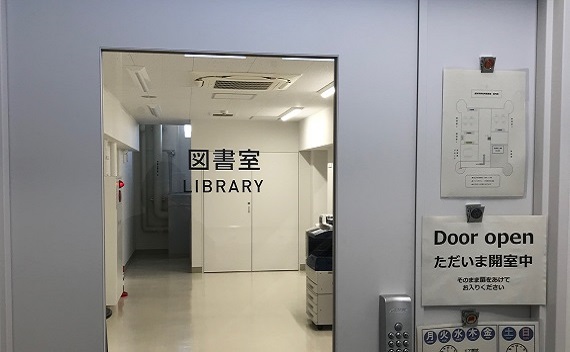 Shirokanedai campus
Institute of Medical Science Library
---
Location
Institute of Medical Science First Building, 4th floor

---
Hours
Weekdays from 9:00 AM to 5:00 PM (Service counter closed from 12:00 PM to 1:00 PM)
Members of IMSUT can enter the library 24 hours a day.
---
Closing Days
Saturdays, Sundays, national holidays, and New Year's holidays
---
Eligibility for use of library
Persons affiliated with The University of Tokyo: faculty members, graduate students, university personnel.
Persons from outside The University of Tokyo: alumni, others
---
Requirements for admission to library
Members of IMS: None
Non-members: Please contact us by e-mail, FAX, or phone.
---
Requirements for reading in library
Procedures: None
Hours: Same as regular library hours
On the search result of UT OPAC, if you find that "Location" is "IMS", the material is belonging to the IMSUT Library.
But, the IMSUT Library will transfer the majority of the materials that we had in the past to other libraries within the university.
The targeted materials cannnot be used until all the procedures are completed. We apologize for any inconvenience, but please understand.
"Temporary transferred. Not available" cannot use materials.
---
Borrowing
Eligibility: Persons affiliated with University of Tokyo
Requirements: Library card (Your Student/Staff ID card)
Materials not available for borrowing: Reference books and unbound periodicals.
Number of books and length of borrowing period: Members of IMS : books 5 (1 week) / journals 8 (1 day) , Persons from other faculties or institutions within the university : books 5 (1 week)
Renewals: Books may be renewed for another 1 week only once if they are not reserved by another user.
Other information on borrowing: Library materials may not be borrowed by persons from outside University of Tokyo.
---
Intra-university delivery service
---
Photocopying
Photocopying permitted/not permitted: Permitted
Photocopiers available/not available: Not available (copier available only for university expense)
Procedures for photocopying:
Members of IMS : For details, please ask at the IMSUT Library
Members of IMS and Non-members : For details, please contact us by e-mail, FAX, or phone.
Materials for which photocopying is prohibited : None
Intra-university photocopying service : Both order and accept.
---
Other information
User guide: Institute of Medical Science Library User Guide(PDF)
---
[ update : 2020.3.4 ]
Institute of Medical Science First Building, 4th floor
4-6-1 Shirokanedai, Minato-ku, Tokyo 108-8639
E-mail:
imstosho@ims.u-tokyo.ac.jp
ECCS terminals:
Not Available (NA)