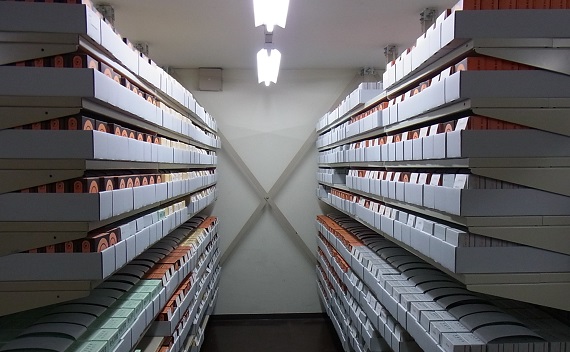 Hongo campus
Multi-media and Socio-Information Studies Archive, Interfaculty Initiative in Information Studies / Graduate School of Interdisciplinary Information Studies
---
Due to COVID-19, user guide (open hour,services,etc) has been changed from this page.
Please check recent information from the URL below.
https://www.center.iii.u-tokyo.ac.jp/
---
Location
Hongo Campus : Interfaculty Initiative in Information Studies / Graduate School of Interdisciplinary Information Studies(III), First floor
---
Hours
Weekdays from 9:30 AM to 5:00 PM
Note : Closed from 12:00 AM to 1:00 PM
---
Closing Days
Saturdays, Sundays, national holidays, and New Year's holidays
From October 21, 2019 (Monday) until late October 2020→ (dependent on the state of progress of the construction work)Click here for more information.
---
Eligibility for use of library
Persons affiliated with University of Tokyo
Faculty members, graduate students, undergraduate students, and university personnel.
Persons from outside University of Tokyo
Former faculty members, alumni, and persons bearing a Pass to the General Library, persons bearing a letter of introduction from a library of an affiliated university or research institution, and persons who have submitted and received approval of an application requesting reading privileges.
---
Requirements for admission to library
Persons wishing to gain admission to the library must present a student ID or personal identification, a Pass to the General Library or a letter of introduction.
---
Requirements for reading in library
Persons wishing to obtain access to library materials must fill out a request form.
Hours : Same as regular library hours
Microform reader(s) : Available
---
Borrowing
Library materials may not be lent out of the library.
---
Intra-university delivery service
---
Photocopying
Photocopying permitted/not permitted : Permitted
Photocopiers available/not available : Coin-operated photocopier & microfilm reader printer are available
Procedures for photocopying : Fill out an "Application for Photocopy" form and make copies (self-service).
Materials for which photocopying is prohibited : Bound original newspapers
Photocopying hours : Same as regular library hours
Cost per sheet copied :Coin-operated photocopier : 10yen(monochrome) / 50yen(color)
Cost per sheet copied :Microfilm reader printer : UTokyo member 20yen(monochrome) / 60yen(color). Others 40yen(monochrome) / 80yen(color)
Intra-university photocopying service : Not available
---
[ update : 2021.10.15 ]
Interfaculty Initiative in Information Studies / Graduate School of Interdisciplinary Information Studies(III), First floor
7-3-1 Hongo, Bunkyo-ku, Tokyo 113-0033
E-mail:
tosyo@iii.u-tokyo.ac.jp
ECCS terminals:
Not Available (NA)
libraries