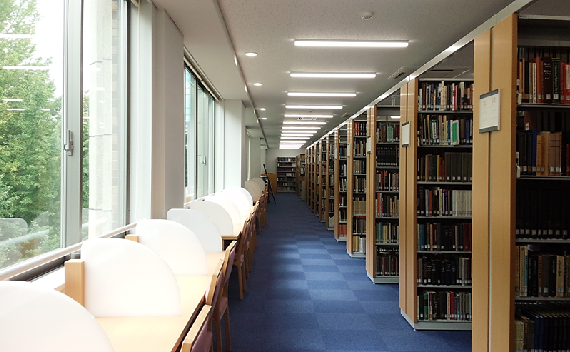 Hongo campus
Graduate School of Education / Faculty of Education Library
---
Location
Hongo Campus : Education Library : Faculty of Education Bldg., Fourth floor
Hongo Campus : Education Library Stack in Faculty of Medicine Bldg.1 : Faculty of Medicine Bldg.1, Basement
---
Opening Hours
Education Library

Education Library Stack

in Faculty of Medicine Bldg.1

Weekdays
Regular
9:00-(Members of the University of Tokyo)19:00
13:15-16:30
(Open: A few days a week. See Library calender of Stack in Faculty of Medicine Bldg.1.)
Vacation
9:00-17:00
Saturday
12:00-19:00
(Admission is limited to members of the Faculty of Education)
Closed

Sunday,National holidays, New Year's holidays, the first Wednesday of the month (or second Wednesday, if it falls on holiday)

Library may also be closed temporarily. See Library calender.

Closed
Closed
Eligibility for use of library
Members of the University of Tokyo

Faculty members, graduate students, undergraduate students, and staff

Non-members of the University of Tokyo

Alumni and alumnae
Others
Non-members are required to contact us by fax/or E-mail before your visit. Please consult a librarian of your institution.
FAX: 03-5841-3915 / E-mail: ikuto(at)p.u-tokyo.ac.jp
Requirements for admission to library
Members of the University of Tokyo :

Please place student/faculty ID or the University of Tokyo Library ID over the card reader at the entrance gate.

Non-members of the University of Tokyo :

Library pass for alumni holder: Please hold it under the bar-code reader to recognize your code at the entrance gate.
Others: Produce any of your identification cards and a copy of our fax/E-mail reply, and fill in the admission form at the library.
Photocopying
Photocopying
Permitted
Photocopy machines

Education Library: Available (one coin-operated machines and one prepaid photocopying cards-operated machine)

Stack in Faculty of Medicine Bldg.1: Available (one prepaid photocopying cards/coin-operated machine)

Requirements

Submit a statement before operating

Materials prohibited photocopying

Damaged materials and other designated materials

Photocopying hours

Education Library: 9:00-16:00

Stack in Faculty of Medicine Bldg.1: 13:45-16:00

Cost
10 yen per sheet
Intra-university photocopy dilivery
Available
Loan service
Eligibility: Members of the University of Tokyo
Requirements: Users must produce your identification/student card.
Materials not available for loan: Reference books, journals, special collections, doctoral dissertation, and other designated materials
Status
Number of books
Loan period
Faculty of the Graduate School of Education
30
3 months
Professor emeritus, Graduate students, Researchers, Part-time Lecturer, staff of the Graduate School of Education
20
1 month
Undergraduate students of Faculty of Education
10
2 weeks

Other members of the University of Tokyo

Students of Secondary School attached to the Faculty of Education

5
2 weeks
Non-member of the University of Tokyo
Not available
Intra-university delivery service
Available
---
[ update : 2018.4.10 ]
Faculty of Education Bldg., Fourth floor
7-3-1 Hongo, Bunkyo-ku, Tokyo 113-0033
TEL:
03-5841-3910 (office) 03-5841-3912 (servie counter)
E-mail:
ikuto@p.u-tokyo.ac.jp
ECCS terminals:
Not Available (NA)