Kashiwa Library Self-Guided Tour (Oct. 2-Nov. 2)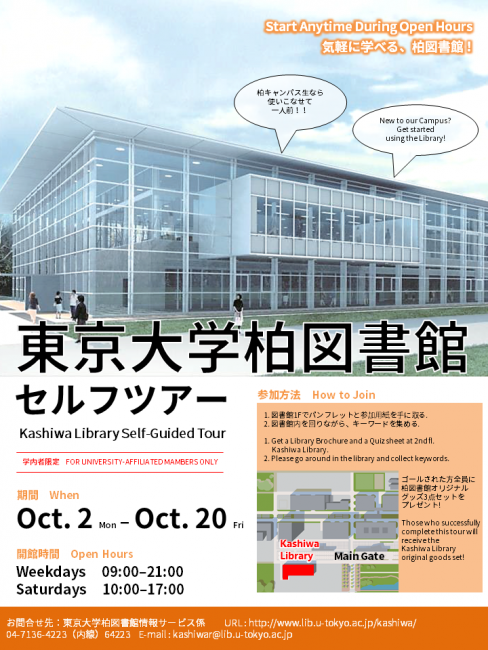 We will organize "Self-Tour at Kashiwa Library" between Oct. 2(Mon.) and Nov. 2(Thu.).
Let's master the usage of the library while solving the problems set up in various places in the Kashiwa Library.
If you have completed all the tasks, you will receive Kashiwa library original goods (Totebag, Multi Cleaner and Clear File).
Everyone who belongs to the University of Tokyo can participate.
For newcomers who came to Kashiwa campus from September, those who would like to confirm the usage of Kashiwa library again are welcome as well.
We are waiting for your participation.
How to participate
Get "Answer Sheet" and "Kashiwa Library Guide" at Learning Support Service (Kashiwa Library 1F).
Solve a task at Learning Support Service, and go to next place.
If you solve all tasks, go to the service counter (Kashiwa Library 2F).
Submit an anwer sheet to us, if

all are correct, we will present you Kashiwa Library Goods.
※ The tour takes approximately 30 minutes.
※ Please bring the writing instrument.
Date and time
Oct. 2 (Mon.) - Oct. 20 (Fri.)
Weekday: 9 am - 9 pm (Please start this tour by 8 pm.)
Saturday: 10 am - 5 pm(Please start this tour by 4 pm.)
Sundays, October 25 (Wed), 27 (Fri) and 28 (Sat) are excluded