Video
"Welcome to the Science Library"(Video / 5 min. / mp4)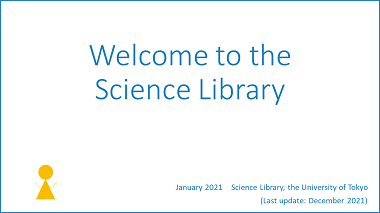 Welcome to the Science Library! This brief video begins with a virtual tour of our library, followed by tutorials about how to find books in the library, and how to use online resources. We hope this will be helpful for new students and faculty members.
*ECCS Cloud Email, the domain name of which is @g.ecc.u-tokyo.ac.jp, is required. Please see "How to use ECCS Cloud Email" for details.
*You can change the video quality and playback speed from the settings button at the bottom right.
Leaflet
Some services are currently being different. Please check "news" on our website for the latest information.